so it's time for Thursday Tunes... a name I have given to the day I try to force my unique and sometimes unusual music tastes on you.
Today I'd like to feature an artist that those of you in the US might not be so familiar with as he comes out of Canada. He's sexy, funny and has a voice that gives me some massive lady wood... too bad he's recently married!
Pretty much every time I hear this song my hips start to move and I can't help but sing along.. no matter where I am. Much to the embarrassment of my bf who pretended he didn't know me last time I started singing along to this while we were walking through the mall.
Yes it's Michael Bublé.. pronounced Booblay NOT Bubbly as pronounced by my friends grandmother.
Grandmother - "Can you play that Bubbly guy, he sounds so nice"
Grandson - "It's Bublé Grandma"
Grandmother - "Yeah whatever.. play him.. I love his voice"
Grandmothers are so funny.
Anyhow... he's just so awesome... not only is he an amazing crooner, but he is super duper sexy too ... AND he's Canadian!
Here are a couple other songs of his that I love, but pretty much everything he sings is like music to my ears... literally.
fun fact: his current wife plays the love interest in the "Haven't Met You Yet" video!
so there you have it.... an education in Canadian music!
and while I'm speaking of Canadian.. I'm going to spread the word of the We Are Canadian Blog Hop!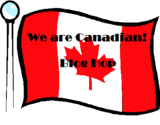 Thanks to the Featured Blogger
Tales of a Hockey Wife
.. check her out!